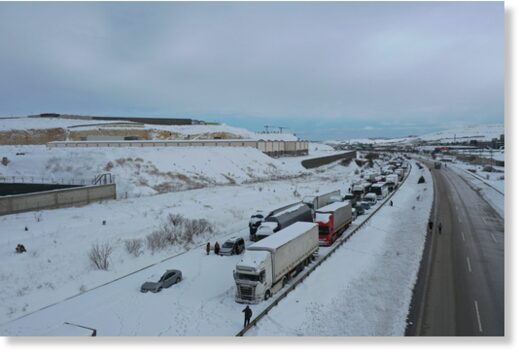 It is winter at its worst for Turkey this week as snowfall and blizzards set in, spelling trouble for the population in most of the country's 81 provinces. Traffic disruption and difficulty in accessing remote locations are among the major woes of the public.
Thousands of people were stranded on a highway connecting the country's southern provinces as heavy snowfall and a blizzard hit the region late Tuesday and Wednesday. Some 2,800 people trapped in their cars in motionless traffic were evacuated by crews.
Gaziantep Governor Davut Gül said that the stranded people were motorists and passengers on Tarsus-Adana-Gaziantep Motorway (TAG), which was closed to traffic on Tuesday night. Gül told Anadolu Agency (AA) that they prioritized the sick among the stranded and each of them was taken to the nearest hospitals. Around 186 people in need of medical care were evacuated to hospitals
. He said the crews also distributed food to some 7,000 people on the highway where the vehicles could not move to low visibility and thick snow.

Gül said crews helped 1,780 vehicles stuck on the road but "at least 2,800 more people" were still stranded. Social media was flooded with messages about people waiting for help for hours on Tuesday night and early hours of Wednesday.