Millions of people are suffering and at least 23 have been reported dead as violent rainstorms plague nearly half of the provinces in China.
Relentless rainfall is now in its fourth successive day in central Hunan Province, affecting more than one million people in 11 cities and counties, sources with the provincial government said at a flood control meeting on Saturday.
The rain has left three people dead, one missing and 158,000 homeless, the Ministry of Civil Affairs reported on Friday.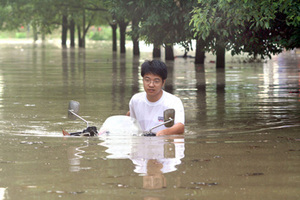 ©Xinhua
A motorcyclist wades through waist-deep flood waters in Yongzhou, Central China's Hunan Province June 8, 2007. Floods, triggered by heavy rains, ravaged the city.