Firefighters tried to contain several dozen lightning-caused fires in Washington state on Saturday, as more thunderstorms swept through the region.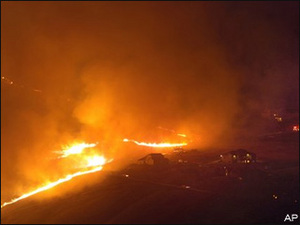 ©AP
The red lights of fire trucks, right, are seen as firefighters prepare defend homes against a fast moving wildfire Friday night, July 13, 2007, in Asotin County, Wash.
Close to 2,700 lightning strikes were reported in Washington and Oregon on Friday and early Saturday, sparking 212 fires, but firefighters quickly contained most of them. Three of the largest remaining fires had burned nearly 43 square miles of grass, sagebrush and farm fields in south-central Washington, and only one had been contained by early Saturday afternoon.