Last Friday's magnitude 5.2 earthquake in southern Illinois is a reminder that earthquakes are a national hazard.
Today, scientists at the U.S. Geological Survey (USGS) are revealing how shaky the nation is by releasing an updated version of the USGS National Seismic Hazard Maps.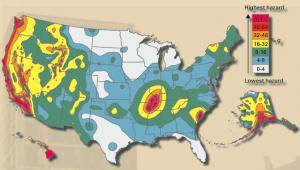 ©U.S. Geological Survey
Colors on this map show the levels of horizontal shaking that have a 2-in-100 chance of being exceeded in a 50-year period. Shaking is expressed as a percentage of g (g is the acceleration of a falling object due to gravity).
Earthquakes remain a serious threat in 46 of the United States. For some areas such as western Oregon and Washington, the new maps contain higher estimates for how hard the ground will shake compared to earlier versions of the maps released in 1996 and 2002.