PORTLAND, Ore. - Six federally protected sea lions were apparently shot to death on the Columbia River as they lay in open traps put out to ensnare the animals, which eat endangered salmon. State and federal authorities are investigating.
The discovery came one day after three elephant seals were found shot to death at a breeding ground in central California.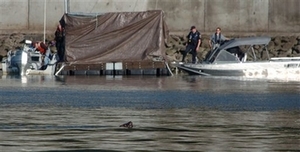 ©AP Photo/Greg Wahl-Stephens
A sea lion swims along the Columbia River, past Oregon Department of Fish and Wildlife investigators on Sunday, May 4, 2008 at Bonneville Dam, just east of Portland, Ore. The deaths of six sea lions are under investigation after the bodies of the federally protected animals were found in open traps on the Columbia River and appeared to have been shot.
Trapping will be suspended during the investigation, said Rick Hargrave, a spokesman for the Oregon Department of Fish and Wildlife who was at the scene Sunday.
The carcasses of the four California sea lions and two Steller sea lions were found Sunday around noon below the Bonneville Dam on the Columbia River on the border of Oregon and Washington.