With a near-record drought parching the state, the coming winter will be critical in determining whether Maryland faces even more disastrous crop failures for farmers and strict watering curbs for suburban homeowners in 2008.
And while there may be showers Tuesday, the prospects for real drought relief in the coming months appear slim.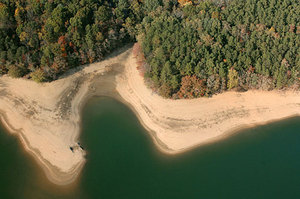 ©photo by Elizabeth Malby
Low water levels at Prettyboy Reservoir are the result of the current drought. "We're looking at the second-driest May-to-September on record, and the records go back to 1895 -- 113 years," said Richard Heim of the USGS.