The Gulf Stream's impact on climate is well known, keeping Iceland and Scotland comfortable in winter compared to the deep-freeze of Labrador at the same latitude. That cyclones tend to spawn over the Gulf Stream has also been known for some time. A new study reveals that the Gulf Stream anchors a precipitation band with upward motions and cloud formations that can reach 7 miles high and penetrate the upper troposphere. The discovery, announced by a Japan - US team of scientists, shows that the Gulf Stream has a pathway by which to directly affect weather and climate patterns over the whole Northern Hemisphere, and perhaps even world wide.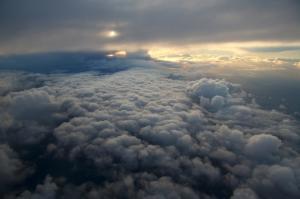 ©iStockphoto/Erik Kolstad
Cumulonimbus storm cloud forming over the warm Gulf Stream along the Norwegian coast. The system is sometimes called a polar low.