Hawaiian Volcano Observatory geophysicists have been working this week to survey a dozen Global Positioning System sites atop Haleakala as part of a routine check on what is still considered an active volcano.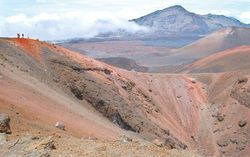 ©Maui News File Photo
According to the U.S. Geological Survey, the 10,000-foot volcano last erupted about 400 years ago. It was thought that the volcano last spewed lava around 1790, a date based largely on comparisons of maps made during the voyages in the late 18th century by French explorer Jean Francois de Galaup, Compte de La Perouse and British Capt. George Vancouver.
But recent carbon dating of lava flows at Haleakala put the date of the last eruption in the 1600s, according to the USGS.