BEIJING - Heavy rain hit south and east China on Wednesday, threatening reservoirs a day after a dangerous "quake lake" drained to safety in the southwest, state media said.
Water levels in at least five reservoirs in eastern Zhejiang province had risen above warning levels, Xinhua news agency said, after days of rain devastated southern Guangdong province and hit record levels in neighboring Hong Kong.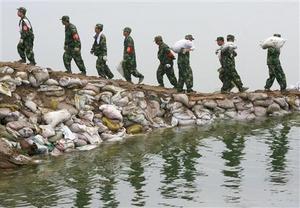 ©REUTERS/Stringer
Soldiers build a temporary dam against possible flooding at Quhe River in Suining, Sichuan province, June 11, 2008.
About 1,880 structures collapsed in Zhejiang and the southern Guangxi autonomous region.