Earth Changes
A number of major news websites have disappeared from the internet this morning following wild storms across south-eastern Australia.
---
---
Little Rock (AP) - More rain will fall in Arkansas during the week, likely adding more water to already flooding rivers in the state's eastern sections.
---
The Flinders Range contains some of the most unusual geological formations in Australia. Indications of gigantic electric arcs are unmistakable.
In several
previous
Picture of the Day articles we have considered the geological history of the Australian continent and found that there are several disconformities in the appearance and structure of many formations. The famous "Red Center" is particularly noteworthy because Uluru, Kata Tjuta and other monolithic
stone tors
stand in isolated grandeur above the relatively flat landscape.
The
Flinders Range
is a rugged outcrop of sandstone and quartzite that begins about 250 kilometers north of Adelaide and stretches for 800 kilometers. The mountains are extensively folded and fractured, with several deep gorges cut through them. One of the most unusual features in the range is
Wilpena Pound
, a natural amphitheater of stone covering 83 square kilometers, with interior dimensions of 11 kilometers by 8 kilometers.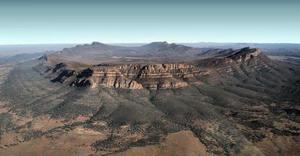 ©Unknown
Wilpena Pound, Flinders Range, South Australia
---
The dog was chained up in the backyard when the Africanized honey bees attacked.

The dog's owner Chantel Armenta tried to get him free but could not, and when she ran in the house, the bees followed, stinging her and her husband.

Her husband is allergic to bee stings and had to be rushed to the hospital. He is expected to live, but the dog may not.
---
Jeff Wicks
IOL
Thu, 03 Apr 2008 17:48 UTC
A man is fighting for his life in hospital after he was stung more than 1 000 times by African honey bees at a Drummond farm on Wednesday.

A paramedic who rushed to the man's aid was also stung several times and was admitted to hospital briefly after he showed signs of a severe allergic reaction to the stings.

Netcare 911 spokesperson Chris Botha said that when paramedics arrived they saw a man collapsed on the ground.

"When the paramedics got out of their ambulance they realised a large swarm of African honey bees was incensed and had stung the man repeatedly. The bees continued to swarm around the man.
---
A man died after he was struck by lightning while playing football at theSekolah Kebangsaan Tengku Bendahara field in Kodiang, Kedah yesterday.

In the 7pm incident, Mohd Khairon Fazdli Md Isa, 27, a heavy machine operator, was playing with friends at the field when the lightning struck.
---
ENS
Wed, 02 Apr 2008 14:30 UTC
Six persons died and six others sustained injuries in lightning strike in different parts of the State on Tuesday.

Four persons, including a woman, died at two places in Ganjam district. One person died at Tilisingi under Bhanjanagar police limits while three of a family died in Keshpur under Khallikote police limits when lightning struck.

In Parlakhemundi, one person died and four others were injured in Zagili Street under Ward no 1 under Parlakhemundi municipality. The deceased has been identified as T Sabara Raju of the same area.
---
Lightning has killed four soldiers and wounded 59 others during military training in north central Sri Lanka, the military said.

"When troops were gathered for the training at the training camp in Katukaleyawa in Polonnaruwa, all of a sudden lightning struck the place and four soldiers were killed and 59 injured," military spokesman Brigadier Udaya Nanayakkara said.
---
Researchers at Texas A&M University have confirmed for the first time that a "dead zone" has existed off the Texas coast for at least the past 23 years and will likely remain there, causing potential harmful effects to marine life in the area.

Steve DiMarco, associate professor in Texas A&M's College of Geosciences who has studied dead zones in the Gulf of Mexico for more than 15 years, believes the dead zone area off the Texas coast extends from the Texas-Louisiana border area to Brownsville. A dead zone occurs when there is hypoxia, or oxygen-depleted water.

Such low levels of oxygen are believed to be caused by pollution from farm fertilizers as they empty into rivers and eventually the Gulf, or by soil erosion or discharge from sewage treatment plants.

"Not all of the area from the Texas-Louisiana coast to Brownsville is a dead zone area, but very much of it is," DiMarco explains. "The Texas dead zone appears to be more patchy and not as continuous as the Louisiana dead zone to the east, but much of the region there has very low oxygen levels, some extremely low."
---