A pair of beavers have built what is believed to be the first dam in England for centuries.
The animals were hunted to extinction in England and Wales during the 12th century and disappeared from the rest of the country 400 years later.
However, two beavers from Germany were introduced to a river enclosure in Devon last year.
This year, the pair have built a 6ft dam with mud, bark and twigs on the River Tale at Escot House, near Ottery St Mary.
John-Michael Kennaway, who owns the estate, has been working to reintroduce the animals on the site for three years. He said that the beavers may be rearing young, known as kits.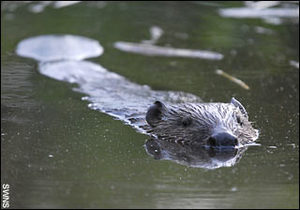 ©SVAS
One of the beavers that has settled on the River Tale