Re-seeding programmes on over 50 reefs are securing the survival of the giant clam for at least another generation, according to World Wildlife Fund-Philippines.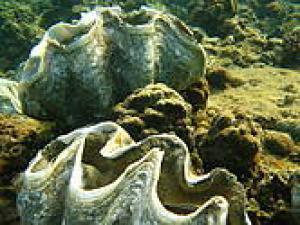 ©Kurt Domingo
The true giant clam (Tridacna gigas), 40 of which were transplanted last month to a new home in Batangas province, Philippines.
The clams, the world's largest bivalve mollusks and the star of lurid but mostly imaginary literary and cinematic depictions of trapped divers, can live for over a century. They have been known to exceed 1.4 metres in length and weigh in at over 260 kilograms.
Once common throughout Philippine reefs, excessive hunting for the food, pet and curio trade all but depleted the wild giant clam population by the mid-1980s, prompting the IUCN to classify them as vulnerable.
An attempt to restore natural clam populations is now being spearheaded by Dr. Suzanne Mingoa-Licuanan of the University of the Philippines Marine Science Institute in partnership with World Wildlife Fund-Philippines.