This week's storms and heavy rains have given parts of South Australia their wettest start to November since records began - but has the River Murray benefited?
Although it is hoped the same tropical system poured into the River Murray's catchment as it flooded parts of eastern Victoria, authorities are yet to determine where any run-off will go.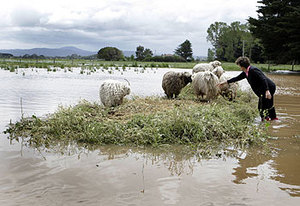 ©Fiona Hamilton
Lyn Craig tends to her stranded sheep in a flooded paddock in Tinamba, Victoria, yesterday.