Scientists believe they could be a step closer to solving the mystery of how the first birds took to the air.
A study published in the journal
Nature
suggests that the key to understanding the evolution of bird flight is the angle at which a bird flaps its wings.
The US team found that birds move their wings at the same narrow angle, whether they run, fly or glide.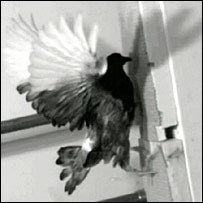 ©Unknown
Birds flap their wings to help propel them up steep inclines