Earth Changes
---
The first signs of another boiling summer are being felt nationwide today as the mercury has already climbed to 40C in the capital.

The Director of the Meteorological Service Kyriacos Theofilou, said that the temperature is five degrees higher than normal for this time of year, with the normal level being around 35C.
---
Xinhua
Fri, 20 Jun 2008 08:17 UTC
Athens -- A major forest fire that broke out in Lagomandra, Kalamos in northern Attica, Greece was continuing to blaze unchecked on Friday, causing extensive damages, according to Athens News Agency reports.
---
Lightning brightens the sky and provides a spectacular display of Mother Nature's power.

This awesome phenomenon also causes more deaths and property destruction in a typical year than floods, hurricanes and tornadoes combined.

Don't underestimate the dangers of lightning.

The threat of lightning danger can occur anytime, but the most likely time for damaging thunderstorms is June through August.
---
MANILA - Flash floods and landslides triggered by Typhoon Fengshen have left at least 14 people dead and forced the evacuation of tens of thousands in the Philippines, officials said Saturday.
---
The floodwaters that deluged much of Iowa have done more than knock out drinking water and destroy homes. They have also spread a noxious brew of sewage, farm chemicals and fuel that could sicken anyone who wades in.

On Monday, Bob Lanz used a 22-foot aluminum flatboat to navigate through downtown Oakville, where water reeked of pig feces and diesel fuel.

"You can hardly stand it," Lanz said as he surveyed what remained of his family's hog farm. "It's strong."
---
Arctic warming has become so dramatic that the North Pole may melt this summer, report scientists studying the effects of climate change in the field.
"We're actually projecting this year that the North Pole may be free of ice for the first time [in history]," David Barber, of the University of Manitoba, told National Geographic News aboard the
C.C.G.S. Amundsen
, a Canadian research icebreaker.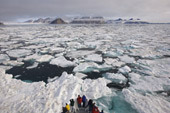 ©Ralph Lee Hopkins/National Geographic/Getty Images.
A ship makes its way through crumbling Arctic sea ice near the Norwegian island of Spitsbergen in an undated photo.

Arctic warming has become so dramatic that ice covering the North Pole may melt this summer for the first time in history, according to scientists in the field.
---
WINFIELD, Mo. - The flooding in the Midwest has brought freight traffic on the upper Mississippi to a standstill, stranding more than 100 barges loaded with grain, cement, scrap metal, fertilizer and other products while shippers wait for the water to drop on the Big Muddy.

"We're basically experiencing total shutdown," said Larry Daily, president of Alter Barge Line Inc. of Bettendorf, Iowa.

While the bottleneck is costing him and other barge operators tens of thousands of dollars in lost revenue per day, June is a slow shipping period on the river compared with the late-summer harvest, the shutdown is expected to last only a few weeks, and it involves primarily non-perishable goods. So no major damage to the economy is expected.

Among the freight being held up: corn and soybeans headed downstream for New Orleans, where grain is loaded onto ships for export. Construction supplies and petroleum products headed upstream on the Mississippi are not getting through either.
---
The effect of climate change on the ecology of krill and whales in the Southern Ocean urgently needs monitoring, a group of Australian scientists warn.

The Australian Antarctic Division scientists say the effects of climate change on the sea ice that breeds krill which feeds whales can no longer be ignored.
---
Scotland's population of honeybees could be wiped out by a mystery virus.

Known as the Marie Celeste Syndrome, it has already killed million of insects around the world.

Beekeepers say Scottish swarms - which total half a billion bees - are at risk because defences against the virus are "woefully inadequate".

In Marie Celeste Syndrome, also known as Colony Collapse Disorder, worker bees disappear without trace and never return.
---