The death toll from a powerful earthquake rose to at least 337 Thursday, a day after the magnitude-7.9 temblor shook Peru's coast, toppled buildings and shattered roads, officials said.
More than 827 people were reported injured and the Red Cross said the toll was expected to rise.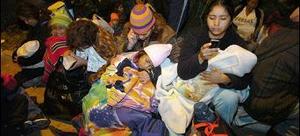 ©AP Photo/Karel Navarro
A family is seen camping in a park to spend the night after an earthquake hit the area in Lima Wednesday Aug. 15, 2007. A powerful 7.9-magnitude earthquake shook Peru's coast near the capital on Wednesday, toppling buildings, setting off landslides and killing at least 17 people when a church collapsed in a southern city.