A strong earthquake jolted northern Japan early on Thursday, injuring at least 76 people, trapping hundreds in halted trains and temporarily cutting off electric power to thousands of homes.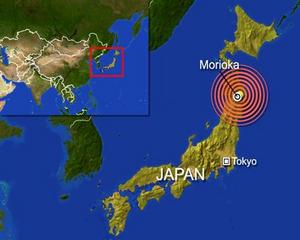 ©REUTERS/Graphics
The Japan Meteorological Agency (JMA) said there was no threat of a tsunami from the quake, which struck at 00:26 a.m. Thursday (11:26 a.m. EDT Wednesday) and had a preliminary magnitude of 6.8 and could be felt as far away as Tokyo.
A National Police Agency official said that 76 people were confirmed injured, including nine seriously. Many were hurt in falls or suffered cuts from broken glass.
Public broadcaster NHK put the injured toll at 103.
The focus of the quake was 108 km (67 miles) below the surface of the earth in Iwate prefecture, a mountainous, sparsely populated region.