HOUSTON - Tropical Storm Edouard plowed into a wildlife refuge on the upper Texas coast early on Tuesday, bringing driving rains and peak winds near 65 mph (100 kmh) but leaving key energy installations mostly unscathed.
Edouard, the fifth tropical storm of the 2008 Atlantic hurricane season, was just shy of hurricane strength when it came ashore at the McFaddin National Wildlife Refuge, halfway between High Island and Sabine Pass, forecasters said.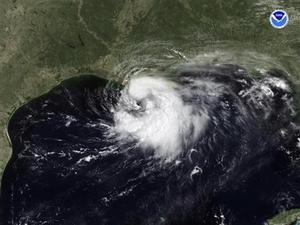 ©REUTERS/NOAA/Handout.
NOAA satellite image shows Tropical Storm Edouard in the Gulf of Mexico August 4, 2008.
At 11 a.m. EDT, the storm was about 40 miles (65 km) west of Port Arthur, Texas, and about 45 miles miles (70 km) north-northeast of Galveston, the U.S. National Hurricane Center said.