As Hurricane Ike revs up again over the Gulf of Mexico, residents of coastal Texas, especially Houston and Galveston, are preparing for the arrival of the monstrous storm, which could be the most devastating that the Lone Star State has seen Hurricane Alicia came ashore in 1983, causing nearly $6 billion in damage and 21 fatalities.
Ike is huge. Hurricane-force winds extend out 120 miles (195 kilometers) from the storm's center, and tropical storm-force winds reach out 275 miles (445 km), both measurements exceeding what's seen with many storms. Ike could reach major hurricane status as a Category 3 before it makes landfall late Friday or early Saturday morning somewhere along the Texas coast.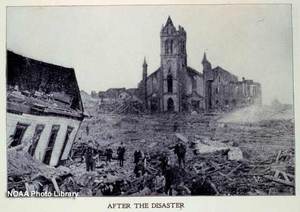 ©NOAA
The unnamed Category 4 hurricane that slammed into Galveston, Texas Sept. 8, 1900 remains the deadliest ever to hit the United States, having killed at least 8,000 people (estimates vary) and leveling virtually the entire town.
And right now it looks like that somewhere will be the Houston/Galveston area.