The biggest one-day deluge to hit Pahrump in years caused washouts in numerous locations, with a few streets still closed this week.
National Weather Service observer Ren Glover reported 2.7 inches Friday, which is the official total. That brings the yearly rainfall total to 3.15 inches, almost up to the 3.64-inch average annual rainfall for Pahrump through Sept. 30.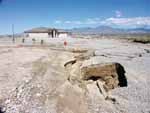 ©Mark Waite / PVT
The rain apparently caused a significant sinkholes that closed Parkridge Avenue off Hacienda Street.