Earth Changes
Bengkulu - A tectonic earthquake measuring 5.0 on the Richter scale jolted East Nusa Tenggara town of Waingapu at 5:38 local time on Wednesday morning, Meteorology and Geophysics Agency (BMG) said.
---
There was an earthquake in the State if Maharashtra, India with the magnitude of 4.7 on the Richter scale.
---
Richard Black
BBC News
Tue, 16 Sep 2008 01:10 UTC

©Unknown
The ice has covered a larger area this year, though much has been thinner
Sea ice in the Arctic appears to have passed its minimum extent for 2008 without breaking last year's record.
The US National Snow and Ice Data Center (NSIDC) says the ice covered 4.5 million sq km (1.7 million sq miles) at its lowest point on 12 September.
Last year's minimum was 4.1 million sq km (1.6 million sq miles).
This summer's ice cover was the second lowest since satellite records began 30 years ago, which NSIDC says emphasises the "strong negative trend".
Comment:
For a long range view, we recommend
this.
---
Volcanic activity in the Papua New Guinea town of Rabaul is now at its highest point since the devastating eruption of 1994 which wiped out two thirds of the town.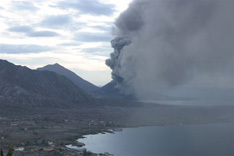 ©Unknown
Up to 40 centimetres of volcanic ash blankets the community and surrounding mountains.
Up to 40 centimetres of volcanic ash blankets the community and surrounding mountains.
There are concerns the oncoming wet season rains will create mudslides.
Ima Itikarai from the Rabaul Observatory says ash on rooftops is also a problem because it turns to mud in rains, collapsing some homes.
---
M&C
Tue, 16 Sep 2008 10:14 UTC
The sunset is beautiful in Gilchrist - within just a few minutes the sky goes from red to indigo and then to a wide range of grey before turning the black of night.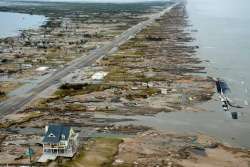 ©EPA/Smiley N. Pool
A single house is left standing on the waterfront near Gilchrist, Texas, USA on 14 September 2008 following the destruction along the Texas coast. As Hurricane Ike slowed to a tropical depression after carving a path of destruction through Texas, rescuers were using everything from dump trucks to boats and helicopters to reach stranded residents.
---
WASHINGTON - The House voted late Tuesday to open waters off the Atlantic and Pacific coasts to oil and gas drilling but only 50 or more miles out to sea and only if a state agrees to energy development off its shore.
---
For the first time in waters surrounding New York City, the beckoning calls of endangered fin, humpback and North Atlantic right whales have been recorded, according to experts from the Bioacoustics Research Program at the Cornell Lab of Ornithology and the New York State Department of Environmental Conservation (DEC).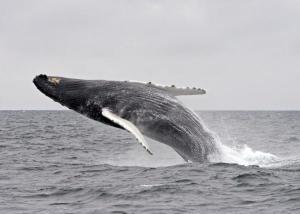 ©iStockphoto/Eric Carr
A humpback whale (Megaptera novaeangliae) breaching. Its long pectoral fins, tubercles, and ventral grooves that run from the lower jaw to the umbilicus are visible.
"This is an exciting time for New Yorkers. Just think, just miles from the Statue of Liberty, the Empire State Building, Carnegie Hall and Times Square, the great whales are singing," says Chris Clark, the Director of the Bioacoustics Research Program at the Cornell Lab of Ornithology. "These are some of the largest and rarest animals on this planet trying to make a living just a few miles from New York's shores. It just goes to show us that there are many important and wonderful discoveries to be made about the living world right here, right in our back yards."
"With data generated by acoustic monitoring, we can better understand New York's role in the life history of these endangered whales and make more informed conservation decisions," says James Gilmore, chief of the DEC's Bureau of Marine Resources. "This is especially important for the survival of right whales."
---
A new species of blind, subterranean, predatory ant discovered in the Amazon rainforest by University of Texas at Austin evolutionary biologist Christian Rabeling is likely a descendant of the very first ants to evolve.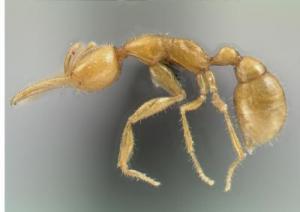 ©Christian Rabeling, the University of Texas at Austin
This new species of blind, subterranean, predatory ant, Martialis heureka, was discovered in the Amazon by Christian Rabeling at the University of Texas at Austin. It belongs to the first new subfamily of living ants discovered since 1923, and is a descendant of one of the first ant lineages to evolve over 120 million years ago.
The new ant is named Martialis heureka, which translates roughly to "ant from Mars," because the ant has a combination of characteristics never before recorded. It is adapted for dwelling in the soil, is two to three millimeters long, pale, and has no eyes and large mandibles, which Rabeling and colleagues suspect it uses to capture prey.
The ant also belongs to its own new subfamily, one of 21 subfamilies in ants. This is the first time that a new subfamily of ants with living species has been discovered since 1923 (other new subfamilies have been discovered from fossil ants).
Rabeling says his discovery will help biologists better understand the biodiversity and evolution of ants, which are abundant and ecologically important insects.
---
There was an earthquake at Ceram Sea, Indonesia with the magnitude of 5.4. The quake occured on tuesday, September 16, 2008 at 01:12:53 UTC (-Coordinated Universal Time ) and at 08:12:53 AM local time reported by the U.S. Geological Survey.
---
The fishermen were hauling in the first net of the morning when the tiger pounced.

Kumaresh Mondal managed to run a few steps before the 450-pound beast knocked him down with a leap, tore into his throat, and dragged his limp body into the dense mangrove forest.
---