Ocean-swapping Pacific salmon are moving into Atlantic waters, scientists say.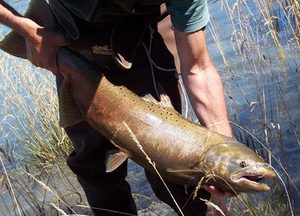 ©Miguel Pascual, Centro Nacional Patagónico
A researcher displays a chinook salmon found in the headwaters of the Santa Cruz River in Argentina. A new study has found that the invasive salmon, native to the North Pacific, are invading the South Atlantic, posing a threat to penguins and sea mammals that compete with the fish for food.