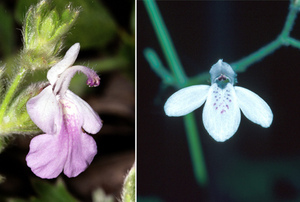 ©Bruce Wannan (left) and Paul Forster (right), courtesy Queensland Herbarium, Environmental Protection Agency.
Two supposedly extinct plants - the pink-flowered mint Teucrium ajugaceum, (left) and Rhaphidospora cavernarum, (right) - have been rediscovered on a peninsula in northern Australia, scientists announced recently.
Two woodland plants long thought extinct have reappeared in far northern Australia, experts announced recently.
Teucrium ajugaceum, a pink-flowered mint that lives in eucalypt woodlands, had not been seen since 1891 and was listed as extinct in 1992.
Rhaphidospora cavernarum, not seen since 1873, also frequents eucalypt forests. Though it grows to almost 5 feet (1.5 meters) tall and boasts white and purple flowers, the plant had somehow evaded surveyors until now.