Earth Changes
Cyprus sweated through its warmest April since records began, according to a weather service announcement.
---
Like a scene from Alfred Hitchcock's The Birds, large groups of ravens are flocking together to attack defenceless victims and eat them alive.

Throughout the country, farmers have reported a rise in the number of calves, lambs, and sheep pecked to death. Animals not killed have been left in agony as the birds eat their eyes, tongues and the soft flesh of their underbelly.
---
---
CHEYENNE, Wyo. - Vacationers will have fewer places to pitch their tents this summer in Colorado and Wyoming, and they can place the blame on bugs.
The U.S. Forest Service has closed some popular campgrounds in the two states because of concern that trees killed by the bark beetles that are ravaging forests across the West could topple onto unsuspecting visitors.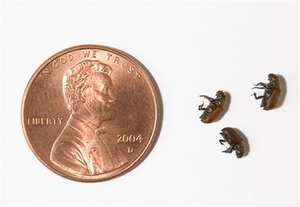 ©AP Photo/Troy Maben,File
Dead bark beetles are displayed next to a penny in the Wyatt Williams's lab at Boise State University in Boise, Idaho, in this Aug. 24,2006, file photo. As bark beetles ravage millions of trees across the West, U.S. Forest Service officials in Colorado and Wyoming have closed some popular campgrounds out of concern the infested trees will come crashing down on visitors.
Bark beetles have always been a part of forests in the West, but warming temperatures and an abundance of aging lodgepole pines that haven't been thinned by fires have allowed populations of the hungry insects to explode. They now infest nearly 3,600 square miles of forest in the two states.
---
PORTLAND, Ore. - Six federally protected sea lions were apparently shot to death on the Columbia River as they lay in open traps put out to ensnare the animals, which eat endangered salmon. State and federal authorities are investigating.
The discovery came one day after three elephant seals were found shot to death at a breeding ground in central California.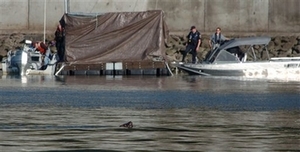 ©AP Photo/Greg Wahl-Stephens
A sea lion swims along the Columbia River, past Oregon Department of Fish and Wildlife investigators on Sunday, May 4, 2008 at Bonneville Dam, just east of Portland, Ore. The deaths of six sea lions are under investigation after the bodies of the federally protected animals were found in open traps on the Columbia River and appeared to have been shot.
Trapping will be suspended during the investigation, said Rick Hargrave, a spokesman for the Oregon Department of Fish and Wildlife who was at the scene Sunday.
The carcasses of the four California sea lions and two Steller sea lions were found Sunday around noon below the Bonneville Dam on the Columbia River on the border of Oregon and Washington.
---
Dhaka - At least eight people have been killed and over 50 injured as a strong storm swept over Bangladesh's northwestern Natore, Sirajganj, Jessore, Rajbari and southwestern Bagerhat districts on weekend, leading English newspaper The DailyStar reported on Sunday.
---
At least nine people were killed and 14 others injured Sunday after being swept away by a sudden large wave that crashed over a breakwater on South Korea's west coast, the Coast Guard said.
The wave - believed to have been as high as 16 feet - slammed over the breakwater near a beach southwest of Seoul where dozens of people had been fishing and sightseeing, said Lee Won-il, a local Korea Coast Guard officer.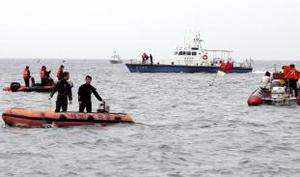 ©Associated Press
South Korean police officers search for missing persons near Daecheon Beach in Boryeong, South Korea. At least nine people were killed and 14 others injured Sunday after being swept away by a sudden large wave that crashed over a breakwater, South Korea's Coast Guard said.

Comment: Regular tidal movements and a cloudy and drizzly weather don't seem to be enough explanation for a freak wave that killed up to 15 people.


---
Manuel Farias and Helen Poppe
News Daily
Sun, 04 May 2008 18:02 UTC
SANTIAGO - A volcano spewed ash over Patagonian towns in southern Chile on Sunday, two days after its first eruption in thousands of years forced authorities to evacuate some 4,000 residents.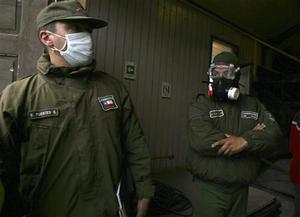 ©REUTERS/Ivan Alvarado
Police wear masks to protect them from ash, in Chaiten, located some 1220 km (760 miles) south of Santiago May 3, 2008.
Local media said an elderly woman died as rescue teams evacuated the last remaining people from the town of Chaiten, close to where the snow-capped volcano of the same name erupted on Friday, triggering earth tremors and sending a cloud of ash two miles into the air.
---
A team of Filipino and American scientists have rediscovered a highly distinctive mammal -- a greater dwarf cloud rat -- that was last seen 112 years ago. Furthermore, it has never before been discovered in its natural habitat and was thought by some to be extinct.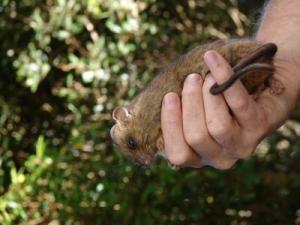 ©Larry Heaney, courtesy of The Field Museum
The greater dwarf cloud rat (Carpomys melanurus) was rediscovered in April, 2008 -- 112 years after the first and only time it had ever been seen by scientists. Cloud rats are one of the most spectacular cases of adaptive radiation by mammals anywhere in the world, with at least 15 species ranging in size from 2.6 kg to 15 grams, all living only in the Philippines.
The greater dwarf cloud rat (Carpomys melanurus) has dense, soft reddish-brown fur, a black mask around large dark eyes, small rounded ears, a broad and blunt snout, and a long tail covered with dark hair. An adult weighs about 185 grams.
"This beautiful little animal was seen by biologists only once previously -- by a British researcher in 1896 who was given several specimens by local people, so he knew almost nothing about the ecology of the species," said Lawrence Heaney, Curator of Mammals at the Field Museum and Project Leader. "Since then, the species has been a mystery, in part because there is virtually no forest left on Mt. Data, where it was first found."
---
Trawlermen have landed an albino ray thought to be the first found in British waters.

The 80cm-long fish was caught in the Solent and is now being cared for at the Blue Reef Aquarium in Portsmouth.

Experts are surprised that the ray survived so long without camouflage to hide from predators.
---