BEICHUAN - Muddy lake water from a dangerously unstable "quake lake" rushed into the devastated Chinese town of Beichuan on Tuesday, covering about a third of the settlement where the water level was rising fast.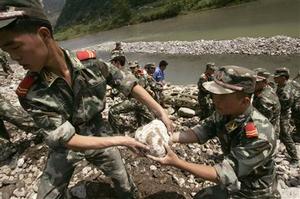 ©REUTERS/Alfred Cheng Jin
Soldiers pile up stones to build a temporary dam against the possible coming floods at the earthquake-hit Yong'an town of Anxian County, Sichuan province, June 9, 2008.
Brown water, clumps of trees and occasional vehicles pushing against buildings were moving quickly into low-lying areas of the town, washing away remains of buildings, bodies and valuables left under the rubble.
The water level at the Tangjiashan quake lake formed by China's most devastating earthquake in decades dropped by nearly two meters (seven ft) in one hour on Tuesday, after soldiers used explosives to widen a sluice, Xinhua news agency said.