BEIJING - At least 80 percent of the habitat for giant pandas in China's earthquake-hit province was destroyed or damaged, a forestry official said Tuesday.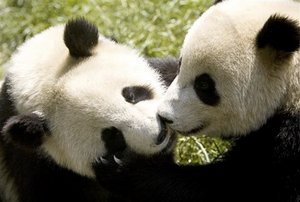 ©AP Photo/Alexander F. Yuan
Two pandas play at China Conservative and Research Center for the Giant Panda in Wolong, China's southwest Sichuan province, Tuesday, June 10, 2008. The nine-year-old Mao Mao was finally found Monday and dug out Tuesday, almost a month after the May 12 devastating earthquake, crushed by a wall of her enclosure as the river nearby swelled with landslide debris.