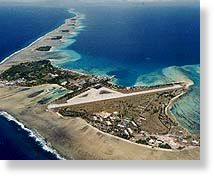 A state of emergency was declared in the Marshall Islands late Christmas Eve as widespread flooding displaced hundreds of islanders, damaged dozens of homes and threatened public health.
Government officials said Wednesday the flooding showed how vulnerable the western Pacific atoll nation is to very small changes in weather conditions.
The islands have been pounded three times in the past two weeks by powerful waves caused by storm surges that coincided with high tides, swamping the main urban centres of Majuro and Ebeye that are less than a metre above sea level.
Houses and roads were damaged but the torrent also destroyed cemeteries, "contributing to the already alarming sanitary conditions with the widespread debris caused by the high wave action," President Litokwa Tomeing said.