Power-generating wind turbines have long been recognized as a potentially life-threatening hazard for birds. But at most wind facilities, bats actually die in much greater numbers. Now, researchers reporting in
Current Biology
, a Cell Press journal, on August 26th think they know why.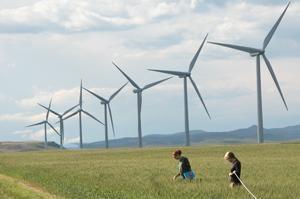 ©Grady Semmens, University of Calgary
The majority of bats killed at wind turbines are the migratory bats that roost in trees, according to PhD candidate and project leader Erin Baerwald.
Ninety percent of the bats they examined after death showed signs of internal hemorrhaging consistent with trauma from the sudden drop in air pressure (a condition known as barotrauma) at turbine blades. Only about half of the bats showed any evidence of direct contact with the blades.
"Because bats can detect objects with echolocation, they seldom collide with man-made structures," said Erin Baerwald of the University of Calgary in Canada. "An atmospheric-pressure drop at wind-turbine blades is an undetectable - and potentially unforeseeable - hazard for bats, thus partially explaining the large number of bat fatalities at these specific structures.
"Given that bats are more susceptible to barotrauma than birds, and that bat fatalities at wind turbines far outnumber bird fatalities at most sites, wildlife fatalities at wind turbines are now a bat issue, not a bird issue."