A new NOAA report on the health of Gray's Reef National Marine Sanctuary indicates that the overall condition of the sanctuary's marine life and habitats is fair. The report also identifies several emerging threats to sanctuary resources, including non-indigenous marine species, overfishing, waterborne chemicals from human coastal activities, and increased recreational use of the site.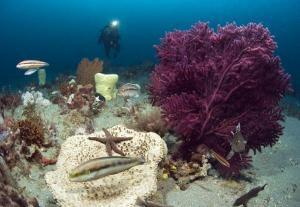 ©NOAA
Soft corals, sponges, and fishes that are typical inhabitants of Gray's Reef.
The first-of-its-kind report about the sanctuary finds that its water quality is relatively good, although researchers have detected low levels of human-produced pollutants in the sanctuary's sediments and water-filtering organisms.
The report cites illegal anchoring, recreational fishing and spearfishing as additional human pressures on the living marine resources of Gray's Reef, and states that snapper and grouper are being overfished both within the sanctuary and throughout the region.
The report also notes that the red lionfish, a voracious and venomous predator native to Pacific waters, has been seen in the sanctuary and may pose a danger to local fish populations and recreational divers.