BEIJING -- A huge volume of water Tuesday surged from a lake created by China's massive earthquake, safely plunging downstream through an area where hundreds of thousands had been braced for disaster, officials said.
The mammoth effort to drain Tangjiashan lake -- where floodwaters behind a landslide had threatened to burst through the wall of rubble to submerge low-lying towns -- was declared a success by officials who said the crisis was over.
But with the risk of man-made drainage channels collapsing under pressure from the water charging through them, there was still a danger of sudden tidal waves.
The official Xinhua news agency reported late Tuesday that a crest of flood water, carrying with it trees, TVs, refrigerators and the bodies of earthquake victims, had surged safely past the city of Mianyang in southwestern Sichuan province.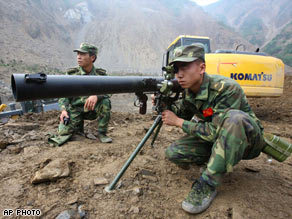 ©AP
An engineer prepares to fire a missile to blast boulders in a man-made spillways in Tangjiashan, China.