A plague of caterpillars has defied the odds by returning for a second year in succession to eat away miles of grass in the Lake District.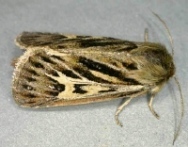 ©Unknown
The antler moth caterpillars, which are about two inches long, have hatched in their millions in the Helvellyn and Skiddaw areas.
The phenomenon, which has always been thought to occur once in every eight to 10 years, has left wide expanses of dead grass where sheep are normally grazed. But what is puzzling the experts is the fact that there was also an invasion of caterpillars last year.
For the first time in living memory, the plague of caterpillars has been followed by a second epidemic in the subsequent year.