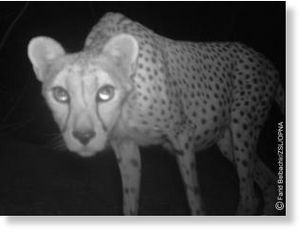 The first camera-trap photographs of the critically endangered Saharan cheetah have been taken in Algeria.
Estimates put the numbers of the animal, also known as the Northwest African cheetah (
Acinonyx jubatus hecki
) as low as 250, but, says Sarah Durant of the Zoological Society of London, this is guesswork. "Virtually nothing is known about the population," she says.
Durant, working with staff from the Office du Parc National de l'Ahaggar (OPNA), says the photographs were taken as part of the first systematic camera trap survey across the central Sahara, covering an area of 2,800 square kilometres.
The survey identified four different Saharan cheetahs, using spot patterns unique to each individual. The two photographs released to the media show extremely thin, hungry-looking cats.