Frozen arctic soil contains nearly twice the greenhouse-gas-producing organic material as was previously estimated, according to recently published research by University of Alaska Fairbanks scientists.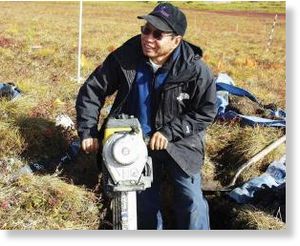 School of Natural Resources & Agricultural Sciences professor Chien-Lu Ping published his latest findings in
Nature Geoscience
. Wielding jackhammers, Ping and a team of scientists dug down more than one meter into the permafrost to take soil samples from more than 100 sites throughout Alaska. Previous research had sampled to about 40 centimeters deep.
After analyzing the samples, the research team discovered a previously undocumented layer of organic matter on top of and in the upper part of permafrost, ranging from 60 to 120 centimeters deep. This deep layer of organic matter first accumulates on the tundra surface and is buried during the churning freeze and thaw cycles that characterize the turbulent arctic landscape.