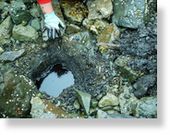 The "stunning" legacy of the 1989 Exxon Valdez oil spill in Alaska is the persistence of oil along the beaches of Prince William Sound that in places is "nearly as toxic as it was the first few weeks after the spill," says
a new report
from the group charged with monitoring the cleanup.
Prepared for the 20th anniversary of the tanker accident that spilled 11 million gallons of crude oil into one of the West's most majestic waterways, the Exxon Valdez Oil Spill Trustee Council said surveys even 14 years after the spill found an estimated 21,000 gallons of crude oil lingering below the surface of beaches - some of it more than 450 miles away from the spill, on the Kenai Peninsula and the Katmai coast.
"At this rate, the remaining oil will take decades and possibly centuries to disappear entirely," the report said.