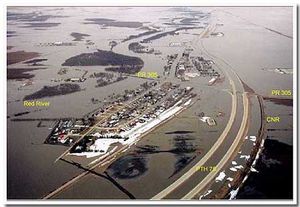 Provincial officials issue standby orders in Manitoba
The latest weather reports have officials in Fargo, N.D., ramping up emergency flooding efforts, as Manitoba communities await a provincial flood forecast on Friday.
Volunteers in North Dakota have begun packing 1.5 million sandbags after forecasters said an approaching weather system may deliver 20 to 60 millimetres of rain across the state and into Manitoba.
The ground in the region is already saturated with three times the normal amount of moisture.
Manitoba latest is awaiting the flood forecast, but provincial officials have already issued standby orders to mayors and reeves in communities along the Red River.
The weather system bearing down on Fargo is not expected to drop as much rain in Manitoba.
The Red River is expected to crest around the end of March, about two weeks earlier than initially anticipated.