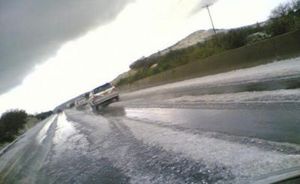 A freak twister and hailstorm swept through Larnaca yesterday, uprooting trees, tearing off rooftops and snapping power cables.
All it took was five minutes for the storm and whirlwind, which broke at the same time, to wreak havoc on the town and its outskirts, as walnut-sized hail stones struck homes and the fierce wind shook cars.
The worst happened in the area near the Antonis Papadopoulos stadium and the Kokkinos refugee settlement. Debris sucked by the twister was hurtled on vehicles, kiosks and residences.