Scientists have been trying for years to come up with a way to predict quakes without much luck. But a man was able to predict Tuesday night's Bay Area earthquake using a system he's worked on for years.
On Sunday, Luke Thomas posted his quake prediction on his website called
quakeprediction.com
and on YouTube. Pointing to a brightly colored map of California, Thomas points to what he says are low-risk areas in the northeastern and southern parts of the state.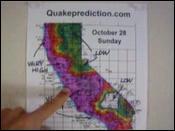 ©CBS13
Luke Thomas points to the high risk area on his quake prediction map.