Bureau blows hot and cold over Antarctica warm-up as Bureau of Metereology backs down from a claim that temperatures at Australia's three bases in Antarctica have been warming over the past three decades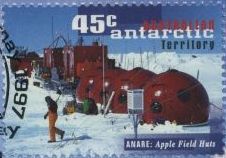 With weather stations like the ones below, it might be a bit hard to separate the real temperature signal of Antarctica from your local UHI. I wonder how much more cooling would be evident in the data had the weather stations been placed away from the "living pods"?
This picture on a postage stamp from Australia, celebrating the Australian Antarctic Territory in 1997, may help settle the issue. Note the Stevenson Screen near the "living pod" on the right.