We are now in Solar Cycle 25 with peak sunspot activity expected in 2025.
Solar Cycle 24
which ended in December 2019, was of average in length, at 11 years. However, it
was the 4th-smallest intensity since regular record keeping began with Solar Cycle 1 in 1755. We're now in Solar Cycle 25 and we are still in Solar Minimum conditions at this time.
Solar Maximum is predicted to occur midway through this cycle which may come as soon as November 2024 but no later than March 2026, with this ideal peak reaching most likely by July 2025.
Right now, the solar wave is conforming more to our model than that of NASA. The Sun has become far
more active
than NASA has forecast or expected. NASA is beginning to worry that this Solar Cycle 25 could become the
Strongest Cycle Since Records Began.
Effectively, in terms of our model terminology, Solar Cycle 25 may be a Panic Cycle. In other words, we appear to be headed into the strongest cycle on record following the weakest cycle. That is high volatility in cycle terminology.
So what does this mean for Markets?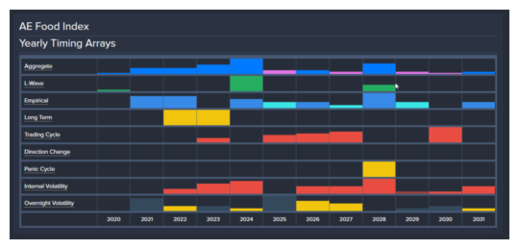 Since this Solar Minimum may continue into 2024, that appears to be a very major turning point on our global food index. Most of our models on markets are showing Panic Cycles in the 2027-2028 time period. That appears to be more war than nature.