Fruit pickers beware. That red berry might actually be an infested ant's rear end.
Scientists have discovered a parasite in the tropical forests of Central and South America that makes its ant hosts look like juicy, red berries ripe for the picking.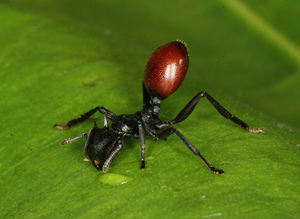 ©Steve Yanoviak
A Cephalotes atratus ant infected by a parasitic worm displays its berry-like gaster - the rear part of its abdomen. Scientists have found that the parasites cause the red coloration, probably to make the ants appealing food to birds. Worm eggs then pass unharmed through the birds' digestive track and are eaten up by new ants in new locations.