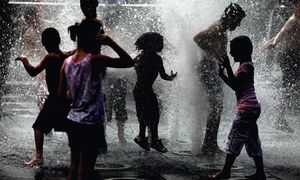 An official heatwave is likely to be declared in Britain today, with temperatures in the south likely to hit 33C (91.4F) later this week.
If officials raise the threat level from amber to red, measures including putting social services and hospitals on alert for a wave of casualties of scorching days and sleepless nights will come in to force.
Temperatures on the outskirts of London hit 30C yesterday, remained in the low 20s overnight in some areas and are expected to top that today.
Torrential downpours have been predicted to hit the north, along with scattered thundery showers in the south, but without any relief from the heat until the weekend.