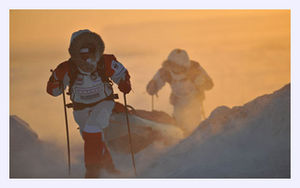 The three-person team of British explorers on the Arctic ice cap may or may not be in danger, depending upon which of the team's representatives back at headquarters in London is doing the talking.
Martin Hartley, Pen Hadow, and Ann Daniels have been on a "scientific" mission to measure sea ice thickness that is routinely measured by satellite and buoys. Unfortunately, just about all of their equipment failed as soon as the team got onto the ice, due to what the BBC has reported as
unexpected wind chill values as low as minus 70 degrees Celsius
.
On the health front, according to Catlin Arctic Survey medical adviser Doctor Martin Rhodes, the team are battling chronic hypothermia. Additionally, Martin Hartley has frostbite on one foot, photographs of which are on the mission website, with a disclaimer for the faint of heart.