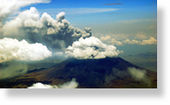 Russia's northernmost active volcano churned out ash to a height of some 5,000 meters (23,000 feet) in the country's Far East late on Saturday, the local geophysics service said on Sunday.
The 3,283-meter (10,771-foot) Shiveluch volcano on the Kamchatka Peninsula last erupted in December 2006 and has been active ever since.
The service reported registering over 170 tremors within the area in the past 24 hours. "Some of them were followed by powerful ash bursts and avalanches," a spokesman for the service said.