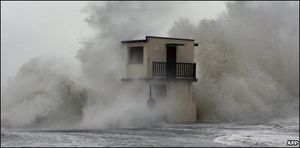 At least nine people have been killed in storms that have lashed parts of Spain, Portugal and France.
Winds of up to 140km/h (87mph) caused chaos as they moved from Portugal up through the Bay of Biscay.
Five people are reported to have been killed in France, three in Spain and a 10-year-old boy in Portugal.
The storm is expected to track north-eastwards during the course of Sunday, reaching Denmark by the evening, French meteorological authorities said.