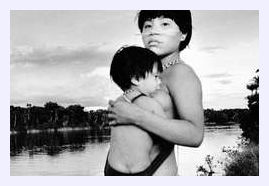 Yanomami shaman and spokesman Davi Kopenawa has made an urgent appeal for support as the Yanomami territory in northern Brazil is being invaded by gold-miners.
Davi said, 'The arrival of miners is increasing, and the Yanomami are very worried... Soon there will be conflicts between the miners and the Yanomami... I know how the miners treat the Yanomami and I am also very sad because some Yanomami are working at the mining sites in return for food. They will fall ill; they'll catch malaria and sexually transmitted infections, because the miners will use the Indian women as they have done in the past'.
He added, 'I am very angry with FUNAI (the Brazilian government's indigenous affairs department) and the police; they have not controlled the entrance of miners. The Yanomami territory is being invaded'.
Davi Yanomami's warning comes just months after he met with President Lula to ask him to remove all the gold-miners working illegally in the Yanomami territory.