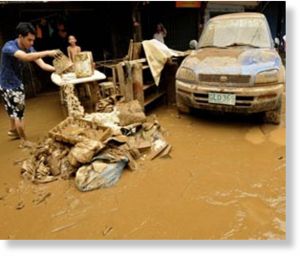 One person has drowned and thousands of people have been affected by floods that have swamped a rain-soaked island in the central Philippines, police said Saturday.
Floodwaters rose south of Naujan lake on Mindoro island after heavy rain began falling in the area before dawn Friday, national police spokesman Senior Superintendent Agrimero Cruz told reporters.
In addition to the drowned person, an undetermined number of farm animals was also lost in floodwaters that reached an average of three feet (0.91 metres), he added.
Some 8,148 families were affected in the towns of Socorro and Pinamalayan, and police are on standby to conduct rescues or evacuations where necessary.