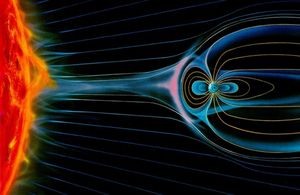 Earth's magnetic field is fading. Today it is about 10 percent weaker than it was when German mathematician Carl Friedrich Gauss started keeping tabs on it in 1845, scientists say.
If the trend continues,
the field may collapse altogether and then reverse
. Compasses would point south instead of north.
Not surprisingly, Hollywood has already seized on this new twist in the natural-disaster genre. Last year Tinseltown released
The Core
, a film in which the collapse of Earth's magnetic field leads to massive electrical storms, blasts of solar radiation, and birds incapable of navigation.
Entertainment value aside, the portrayal wasn't accurate, according to scientists who say the phenomenon of Earth's fading magnetic field is no cause to worry.