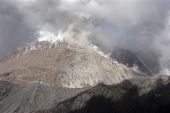 Santiago - Chile's Chaiten volcano, which erupted spectacularly last year, spewed a vast cloud of ash as well as gas and molten rock on Thursday in a partial collapse of its cone, prompting a fresh evacuation.
Television footage showed a cloud of ash billowing into the sky over the town of Chaiten, which lies about six miles from the crater.
Authorities evacuated 160 people from the area. Around 7,000 nearby residents were evacuated last year after the volcano, dormant for thousands of years, erupted. The government is planning to relocate the town.
Officials from Chile's national emergency office, Onemi, flew over the volcano and saw a kilometer-long crack in the cone of ash that has steadily grown in the crater, part of which has collapsed.
"Large quantities of gases and pyroclastic material were observed," Onemi said in a statement, adding that rains in the area combined with the ash could cause flooding in and around the town of Chaiten, located 760 miles south of the capital Santiago.