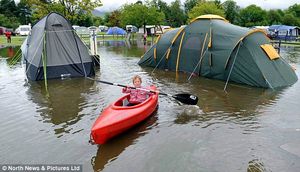 The campers paddling between flooded tents didn't need to be told. Neither did the families huddling for shelter beside deserted beaches.
But yesterday the weathermen officially admitted that their prediction of a 'barbecue summer' had been hopelessly wrong.
And the bad news for millions of holidaymakers, many of whom had opted to stay in Britain on the strength of the optimistic forecast, is that after a soggy July, August will be no better.
As the Met Office rather sheepishly announced that it had 'revised' its seasonal forecast, the tourism industry was asking how the experts got things so badly wrong.
There were even fears that disappointment over the third wet summer in a row could put some families off British holidays for good.