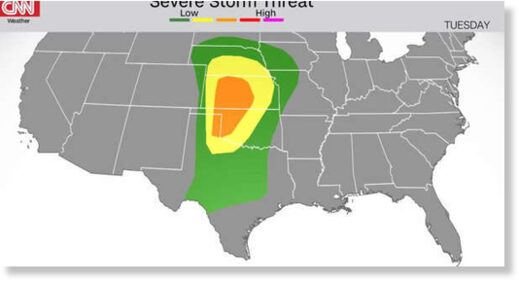 A clash between summer and winter across the central US is causing an autumn outbreak of snow where the air is colder and severe storms, along with tornadoes and flash flooding, where it's warmer.
There's a "big temperature contrast across the country as a battle of the seasons commences," said the Weather Prediction Center.
Cooler-than-average temperatures have infiltrated the West, while above-average temperatures are occupying the East.
Between the two competing air masses is where the extreme weather will battle.
Autumn severe weather is very similar to severe outbreaks we see in early spring -- as colder air clashes with oncoming warming, says CNN meteorologist Chad Myers.
"The shorter fall severe weather season occurs when the warm air of summer is pushed away by the incoming colder air of winter."